CATEGORY: Farm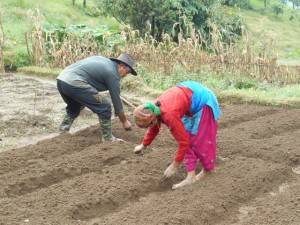 This is a month of September 2013 (last week Nepali month Bhadra). The Weather is getting nice. Yesterday (10 sep. 2013), I had a chance to take photographs of South Annapurna on that day and which is attached herewith. It seemed the best season had been started. we felt that it was the wealth of the Nature. Annapurna range, smiling Machhapuchhar, greenery Mountains, downside Lahachok and Gahachok valley looked beautiful; terrace fields were full of green rice. They are really so nice view.
Well, after harvested corn in Hananoie we have schedule for plant vegetable at our field. Therefore this September we prepared soil for planting vegetables. First, we make clean at vegetables planting area after harvest corn and prepared soil. After prepared soil we put some fertilizer and mixed it in to the soil. After that, we take out our buds from the Nursery garden and plant it there. We have to do more take care them around 10 days after planting.
We apply permaculture as well as Nepalese agriculture. It is vegetable planting month in Hananoie and around Hananoie. We plant many kinds of seasonal vegetable in the same field. It can prevent insects. Moreover, mixing looks beautiful. We call the fields as vegetable garden. The plant we are growing now are one-month plants, such as cauliflower, cabbage, broccoli. They are 100% organic Vegetables. We use our buffalo and goat dung as a fertilizer. We traditionally use herbs for prevention vegetables from disease and insects. We also mix herbs with cattle urine as a liquid fertilizer and medicine for the plants. Planted vegetable will be ready in November. After harvesting these vegetables, other seasonal vegetables will be planted.
We use this vegetables to serve our valuable guest for their food at Hananoie & Tabemonoya Japanese restaurant at Pokhara. We use for staffs' foods also. We have very wide field here and a plant lots of vegetable planting for winter season. The interesting things is that, there are many wild rabbits here and they love to eat our vegetables at night time. You can see from your bedroom at night time when they are going to eat our vegetables. We prepared partitions (small wall) by corn stick around the vegetable garden to save our buds. Although many rabbits eat our plants, they are still enough for us because we plant plentifully here. We plant different kinds of vegetables every season and the field remains green and beautiful all over the year. But best season is September when we can plant many plants — cauliflower, cabbage, broccoli, radish, potato, chinese cabbage, beans and lots of green vegetables.